Sydney's Best Breakfast Places For Every Occasion
Everywhere is serving breakfast these days - it's the new dinner! With all the choice out there, it can be a challenge to pick a venue that everyone agrees on. We've undertaken all the difficult research out for you - just pick your group and get eating.
The Out-Of-Towner
The Boathouse Shelly Beach is on the stunning headland that is Shelly Beach. Grab your visitors, park in Manly and follow the 1.5km coast track which offers amazing scenery, and you will have built up an appetite worthy of a breakfast at The Boathouse. The main dining area is light and airy, full of flowers, and has a laid back, beachy feel. If you are lucky enough to snag an outside table, you will have beautiful water views across to Manly. The menu is extensive, the food is delicious and is complemented by friendly, smiling service.
1 Marine Parade, Manly
The Instagrammer
There is no better venue to please the insta-obsessed than The Grounds Alexandria. There is a beautiful display of flowers for sale to the mouth watering baked goods that are just crying out to be photographed. Then there's the Grounds endless 'grammable food options'. Take for example the freshly baked banana and date hotcakes, with smoked maple butter, roasted pear, buffalo ricotta, walnuts and pistachios.
7a/2 Huntley St, Alexandria
The Bunch of Girlfriends
Set within a heritage sandstone building with spectacular views from a wrap around balcony, Burnt Orange Café in leafy Mosman is the perfect place to start the day with the girls. An excellent, varied menu with their own special touches. They make their own baked beans and the cardamom, chai and sago pudding with seasonal fruits, nuts and saffron mango coulis is popular with the regulars. When you have finished brekkie, round off the morning with a little retail therapy in the eclectic giftshop which offers a wonderful range of homewares, beautiful books, jewellery and children's toys.
1109 Middle Head Rd, Mosman
The Health Conscious
Looking for a clean bite to eat? Ruby Lane, Manly is where you should head. They have a sustainable and ethical approach to food, using locally-sourced produce from small-scale markets and growers. Only the freshest and most wholesome ingredients are used to create a nutritious tasty menu that's delicious and good for you too. Menus change seasonally, and Ruby Lane also offers a wide range of health-focused workshops which you can book into.
200 Pittwater Road, Manly
The Active One
Got friends that are always on the move? Never fear. Schedule them in for a run around Centennial Park and ask them to trot across the road and meet you at The Hughenden Café, Woollahra. Offering 4 dining areas, an open courtyard, air-conditioned lounge, conservatory and terrace, there is a space to suit everybody's needs. As an added bonus, all areas welcome your furry friend. Open 7 days, this café focuses on fresh produce to provide tasty yet healthy dishes.
14 Queen Street, Woollahra
The Business Meeting
Bambini Trust attracts a mix of corporate executives, legal eagles and magazine editors who flock here for a heart-starting ristretto and breakfast. From the moment you arrive, you are greeted with sophistication and outstanding service. Who doesn't want to start their day with an Alaskan Crab, and Enoki mushroom Omelette washed down with a glass of Bollinger Special Cuvee NV Champagne.
185 Elizabeth Street, Sydney
The Coffee Connoisseur
For the self proclaimed coffee-obsessed, Brewtown Newtown is a necessary pilgrimage. With a background in specialty coffee, the owners wanted to roast the beans themselves - which they do, almost every day. The large warehouse interior is rustic, with exposed brick walls and timber seating at the bar or at tables. Naturally, there is a strong focus on coffee (both espresso and filter styles). Along with the excellent coffee, you will be pleased with Brewtown's all day breakfast and lunch options.
6-8 O'Connell Street, Newtown
The Hangover
Feeling a little worse for wear after a big night? Tucked in a quiet laneway in Redfern lies the answer to all your hangover needs: Henry Lee's. With a massive all day brunch-style menu packed with dishes including 'butter croissant French Toast' and a bacon and egg roll to put all others to shame, Henry Lee's is the perfect place to fill the tank when in need of some serious comfort food.
16 Eveleigh Street, Redfern (Entry via Hart Street)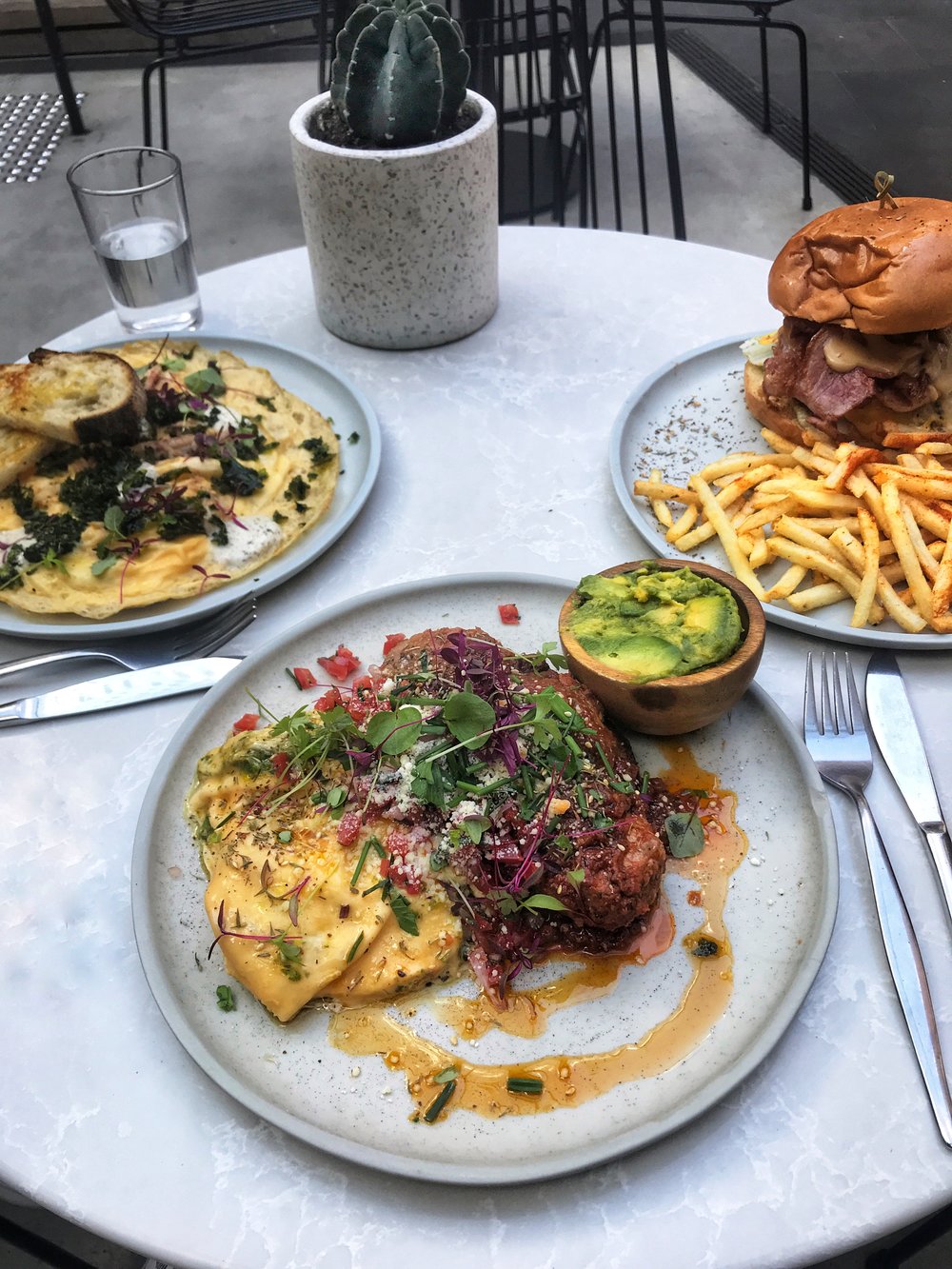 The Vegetarian
Bread and Circus is the holy grail of vegetarian food, there is no two ways about it. This healthy little nook poked into the sunny back corner of a mini foodie precinct draws quite a crowd of regulars and the inquisitive. Keep an eye out for the parmesan not-so-scrambled eggs with real truffle oil and the morning jumble of bircher and granola, or lunches of mozzarella with grilled zucchini and polenta. It's impossible to leave without feeling well-fed and healthy.
21 Fountain Street, Alexandria