15 of the Best Rooftop Bars to Visit in New York City
Is there anything that says 'summer in NYC' better than the rooftop bar? There's nothing quite like enjoying a cocktail while soaking up the spectacular views of the New York City skyline.
In honour of the start of the New York summer season, we've selected our Top 15 rooftop bars across Manhattan and Brooklyn. Enjoy!
Mr. Purple
lower east side
Situated on the 15th floor of the trendy Indigo Hotel, this two-terraced Lower East Side bar is known for their high-end cocktails, bar snacks and expansive views of Manhattan's skyline.
Nomad's Tip: Get there early if you want a seat!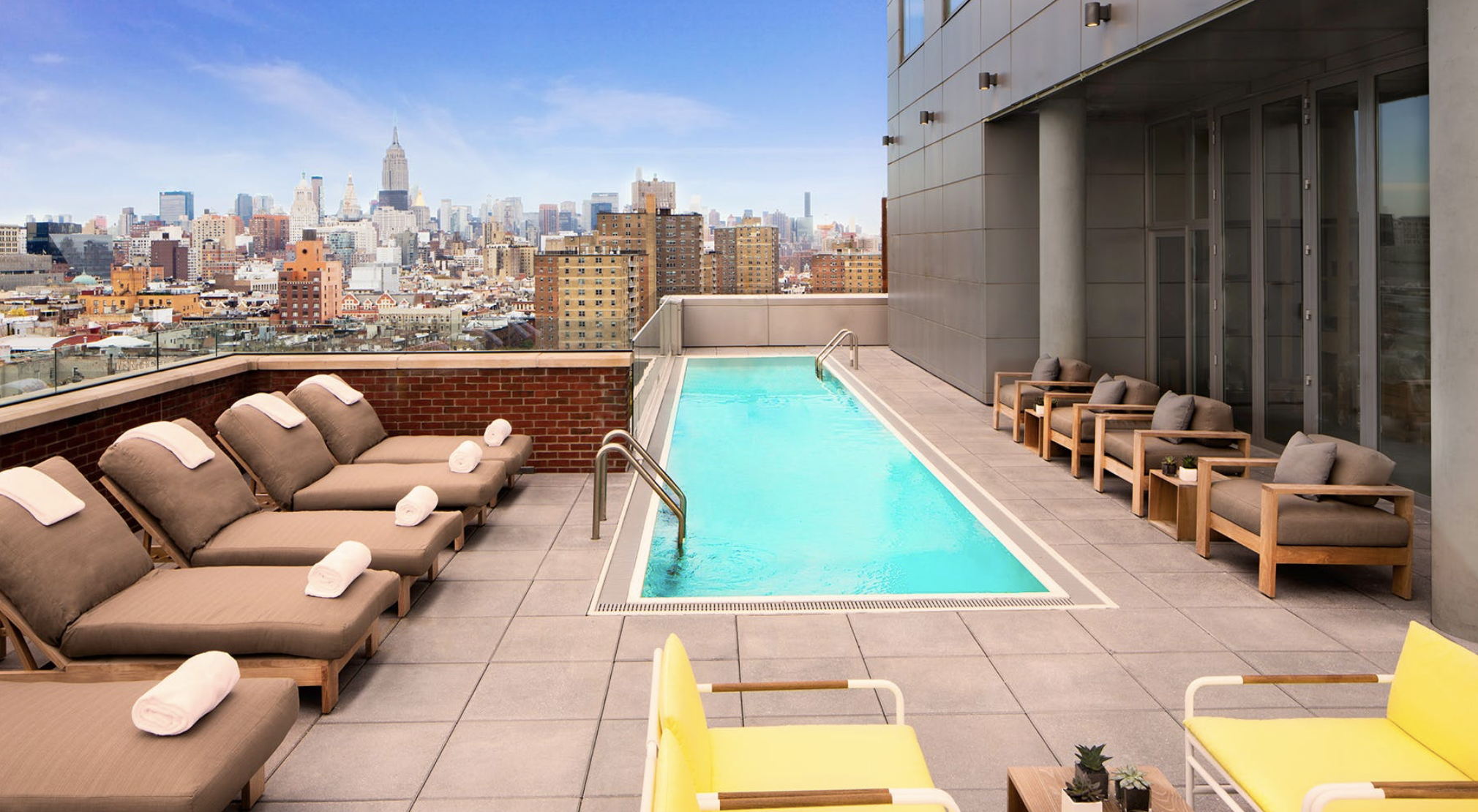 garment district
Prepare to spend the entire evening looking upwards while drinking at the Refinery Rooftop - it's hard not to when the Empire State Building looms directly overhead. This industrial-chic space is a popular after-work spot for locals, and is surprisingly unpretentious for a Midtown bar (a rare find). Reservations are encouraged.
soho
A great spot for people watching, the Jimmy at The James is a hotspot for the young and attractive. Perched atop the stylish James Hotel, the bar features an indoor lounge with floor-to-ceiling windows as well as the famous outdoor pool/ patio area with sweeping views of the Financial District and TriBeCa.
flatiron
Looking for something a little more casual where you can get a bite to eat? La Birreria, Eataly's rooftop beer garden, is the place for you. Decked out in striped umbrellas and beach towels, the rooftop is divided into two areas - a restaurant and a bar, both serving delicious food and Italian drinks.
chelsea
One of Chelsea's best summer drinking spots, Gallow Green is a laid-back rooftop oasis with plenty of seating room and a beautiful green-garden vibe.
Nomad's Tip: If you're looking for a theatre experience you'll never forget, book in for Sleep No More, an immersive, site-specific telling of Shakespeare's Macbeth that takes place in the McKittrick Hotel below Gallow Green.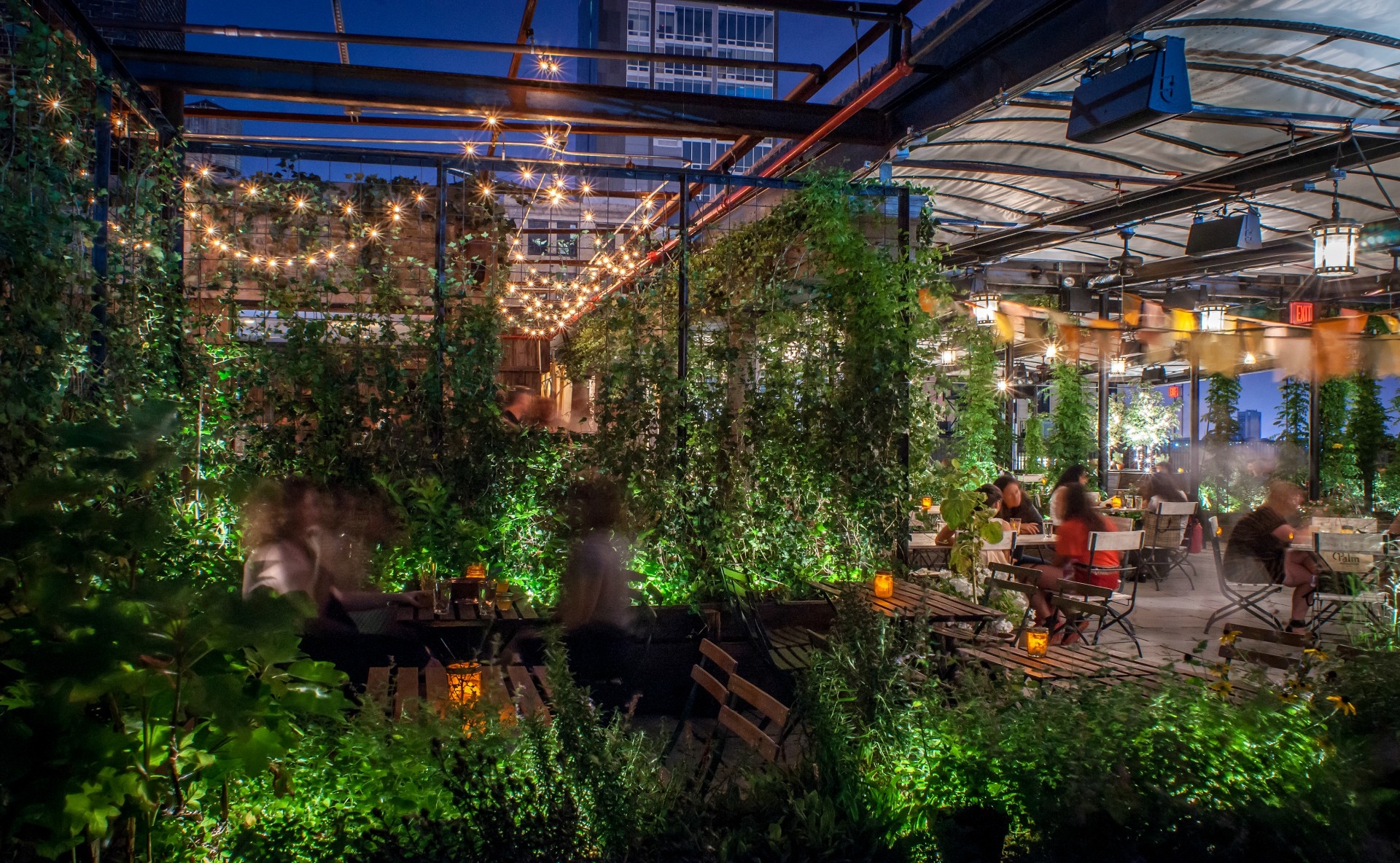 williamsburg
Positioned on the 22nd floor of the new William Vale Hotel in Williamsburg, there's no denying that Westlight boasts some of the best views in the entire city. Offering a unique menu of handcrafted cocktails and bar snacks inspired by street food, Westlight is currently the most popular rooftop in Brooklyn for a reason.
Nomad's Tip: Due to Westlight's immense popularity, we'd suggest making a reservation as far in advance as possible.
Hell's Kitchen
Let's face it: Getting to 11th Avenue is a trek. Having said that, if you can convince your friends to make the hike into the depths of Hell's Kitchen, you'll be rewarded with world class views. Press Lounge is sleek and spacious, and has been consistently recognized as one of the best rooftop bars in the world.
Nomad's Tip: Press Lounge is a great post-show drinking spot if you're visiting Terminal 5 or Broadway.
midtown
If you should find yourself in the triangle between Times Square, the Empire State Building, and Madison Square Garden on a hot summer's day, you'll no doubt quickly come to the realisation that this is possibly one of the worst places on earth to be when the temperature exceeds 28°C. The heat and humidity gets trapped between rows of tall buildings (giving the trash on the sidewalk its signature 'NYC Summer' scent), and the sidewalks are packed with tourists trying to find the Times Square Diner.
The best thing you can possibly do in this scenario is to head to the rooftop of the Courtyard Marriott Hotel, where you'll find the Monarch Rooftop's big wraparound terrace. Order yourself a cold beverage, soak up the breathtaking views of the Empire State Building, and vow to never waste a meal in New York City by eating at the Times Square Diner.
flatiron
Who doesn't love a chic rooftop garden with live music and fairy lights? 230 FIFTH is New York's largest outdoor Rooftop Garden and Fully enclosed Penthouse Lounge.
Nomad's Tip: Don't be afraid to visit during winter - from November to May the rooftop transforms and becomes scattered with heated and transparent winter igloos, while the bar serves spiked hot chocolates and hot ciders.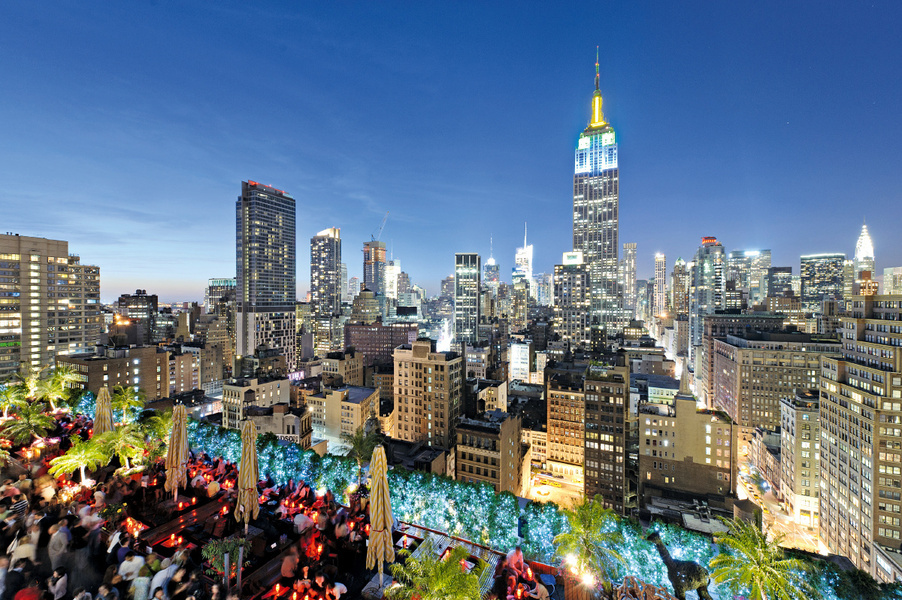 midtown
With its three plush corner Sky Pods overlooking Times Square, stylish indoor and outdoor seating options, the exclusive Waterford Crystal Lounge, an ultra-luxe private room, and lush living walls of greenery, St. Cloud is the ultimate rooftop bar in NYC.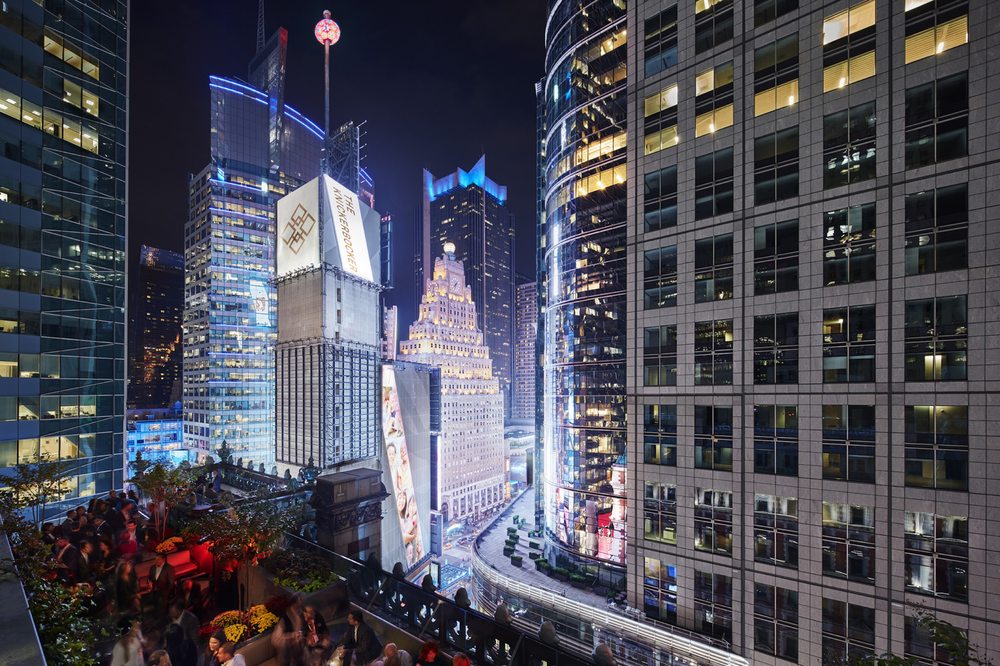 chelsea
A great spot for a day of lounging poolside, La Piscine has become a go-to spot for locals on hot summer days when the only way to cool down is with a swim and a cocktail. Luckily, you don't have to be a hotel guest to lounge poolside as day passes are available for purchase.
meatpacking district
Perched atop the Standard Hotel located in Manhattan's trendy Meatpacking District, Le Bain is one of the only places in the city where you can enjoy a cocktail jug on a grassy knoll while soaking up the setting sun over the Hudson River. Be sure to get there early to avoid the queues.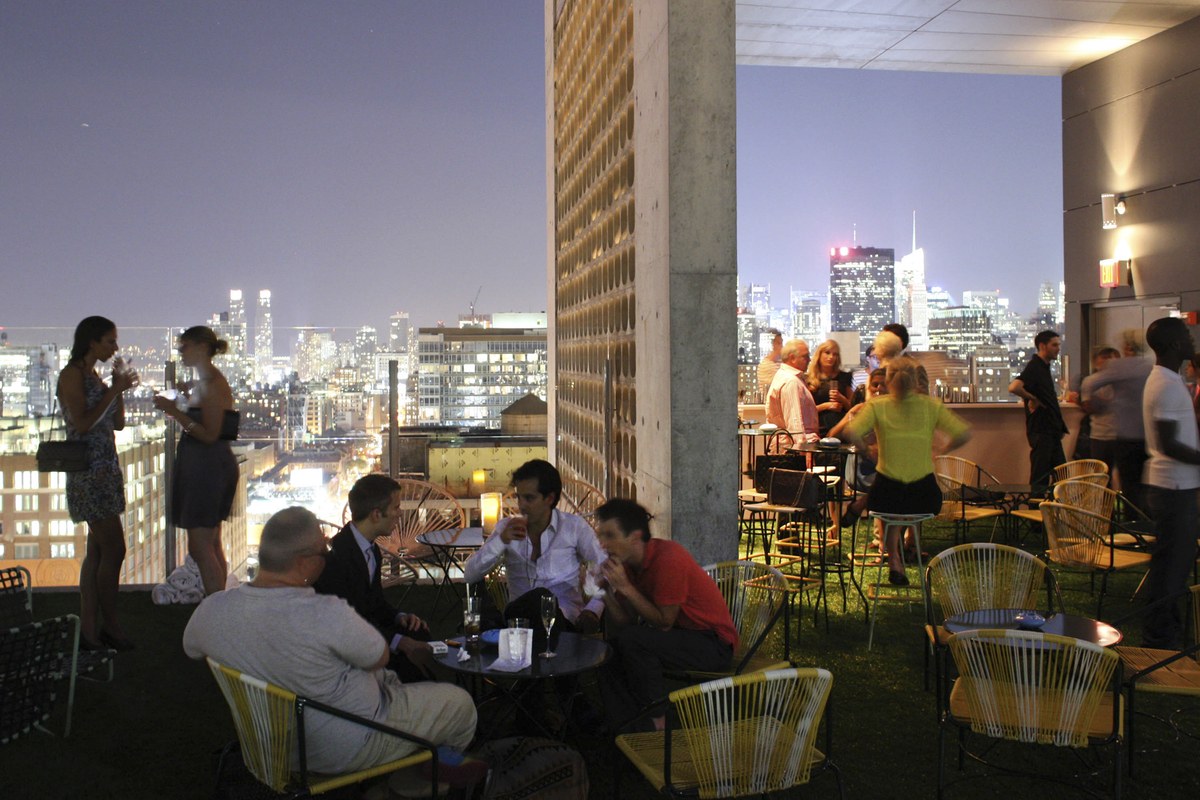 midtown
A weatherproof retractable glass roof over an intimate rooftop lounge makes the perfect space to escape the chaos of Midtown below. Sitting atop The Strand Hotel, this rooftop bar is one of the top venues in the city because of its friendly atmosphere coupled with their creative cocktails and bar bites.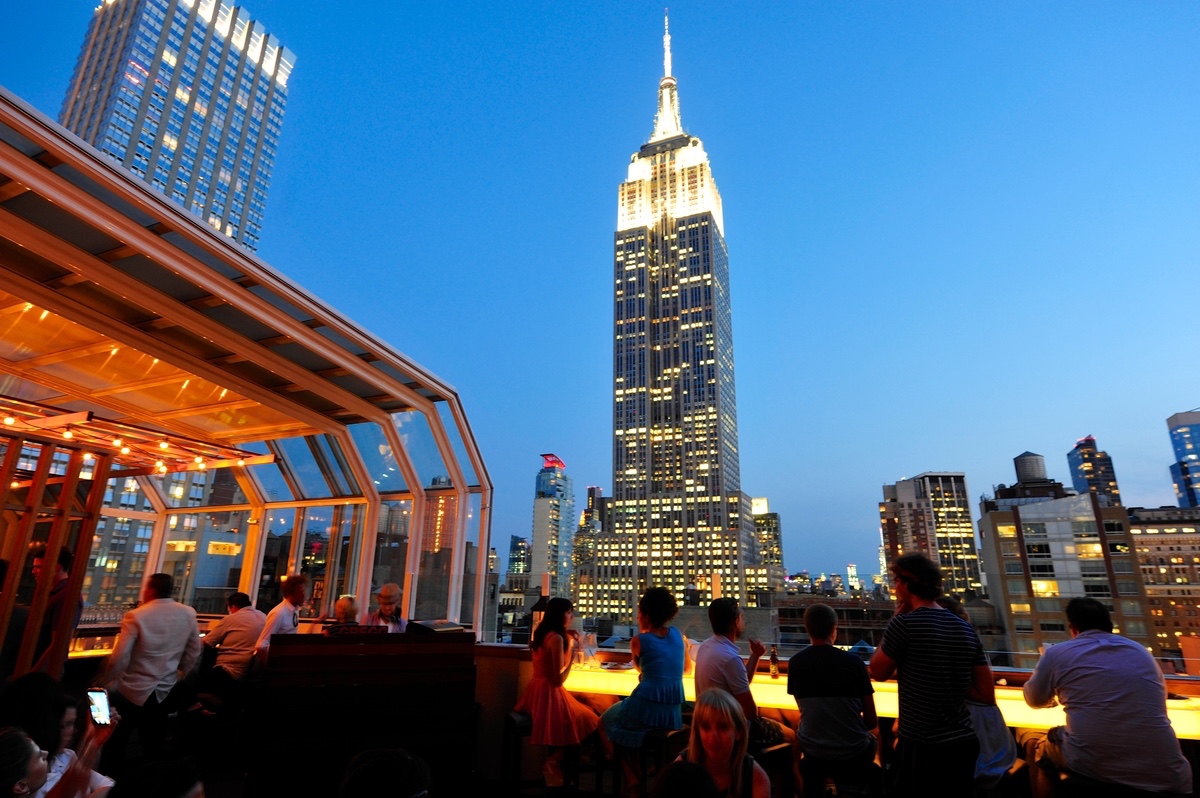 williamsburg
An ideal vantage point for enjoying summer sunsets over Manhattan's glittering skyline, The Ides at Wythe Hotel is undeniably one of the hippest drinking holes in Brooklyn, which is probably why 90% of the crowd do not come from the Five Boroughs. Come for the view, stay for the strong drinks.
garment district
Set 30 stories above the heart of New York's Fashion District, Skylark delivers panoramic views of the Hudson River, Times Square, The Empire State Building, and the best of Midtown Manhattan. The cocktails by Jonny Swet of Rogue & Canon and Jimmy at the James are almost as impressive as the views, while the multi-level indoor outdoor layout makes this spot a winner for any time of year.