4 of the Best Neighbourhoods to Stay in When Visiting New York
You know the city, but do you know the neighbourhood that suits you? The Big Apple spawns neighbourhoods, each with their own unique identities. Whether you're seeking fine food, galleries, shopping or architecture, there is something for everyone in the city that never sleeps...
MEATPACKING DISTRICT/WEST VILLAGE
Best For: ART & OPEN SPACE LOVERS
One of the fastest-evolving areas in NYC, this historic area has something for everyone. This is a 24-hour neighbourhood located on the far west side of Manhattan. The Meatpacking District is home to The Whitney Museum of American Art, high-end designer clothing stores, the Chelsea Market, and a stretch of The High Line; an elevated park built atop former railroad tracks offering walkers 2.3 kms of greenery, art and some of the best views in NYC. At ground level, the cobblestone streets are filled with restaurants and trendy cafes.
The West Village (my personal favourite place to stay), has managed to maintain an intimate vibe that sets it apart from many other hustle-bustle NYC destinations. Despite the celeb-heavy demographic and profusion of restaurants and boutiques, the West Village preserves a low-key, everyone-knows-everyone charm. Be sure to pop in to my favourite New York patisserie, Aux Merveilleux de Fred, for a delicious merveilleux cake - you won't be disappointed!
WHERE TO STAY
The Maritime Hotel
This glamorous hotel was once the headquarters for the National Maritime Union. Today it serves as a luxurious and modern hotel, which is perfect for visitors who want to walk the city like a local. Chelsea Market and The High Line are right next door and the A, C, E and cross-town L subway are just around the corner. A nautical spirit infuses the guest rooms and public areas, without being kitsch or cheesy.
The Jane Hotel
A Historic Landmark Hotel close to restaurants, next to the Whitney Museum and adjacent to the Hudson River. The Jane Hotel is a perfect choice for those who are "cost-conscious" but are still looking for a hotel that has plenty of charm. Rooms can be on the small side.
SoHo
Best for: RETAIL THERAPY
The former manufacturing district of SoHo (South Of Houston Street) is a shopper's mecca. Remarkably hip SoHo welcomes a tirelessly fashionable crowd with a penchant for premium shopping. During the day, street vendors sell everything from jewellery to original artwork. Once you've had your dose of retail therapy, take a break with a meal at one of the neighbourhood's many excellent restaurants (including the iconic French brasserie, Balthazar), or a drink at one of its elegant boutique hotels.
WHERE TO STAY
This Kit Kemp designed haven of bold colour and refinement is a stunning masterpiece featuring plenty of outdoor space complete with beautiful SoHo views. This hotel has the warmth and scale of a small hotel with all the amenities of a large one, and the service is second to none!
Offering just 75 guest rooms over six floors, this serene and discreet hotel in buzzy SoHo blends seamlessly into its fashionable surrounds. Beautiful plush loft-like rooms have a heavy New York feel to them. With outstanding engaged staff, a wonderful location and chef Jean Georges' Mercer Kitchen off the lobby to dine at, what's not to love!?
GREENWICH/ FLATIRON
Best for: FOOD & PEOPLE WATCHING
'The Village' is a beloved mix of the best that New York has to offer, including the iconic Washington Square Park. The neighbourhood manages to feel intimate, but is still home to some of the city's best Jazz clubs, bars, restaurants, comedy clubs and delis. Any stay in Greenwich is not complete without a visit to Murray's Cheese Room and Tacombi for some seriously good tacos and sangria!
A few blocks north and you will find yourself in the Flatiron District, named after the famous wedge-shaped Flatiron Building. Another focal point is Madison Square Park, known for it's seasonal art installations and the long line that forms daily at the original Shake Shack. Locals and tourists frequent hip bars, stalls at Italian emporium Eataly and eclectic food trucks on Fifth Ave.
WHERE TO STAY
It's hard to find a much better address than in the heart of Greenwich Village. This hotel is a stones throw away from Washington Square Park and is surrounded by a melange of the city's finest restaurants. While guest rooms are 'modest in-size', the French inspired character-filled interior makes up for the tight quarters. The staff are polite, pleasant and helpful, but not intrusive and a delightful continental breakfast is included in the room rate.
This Hotel is meant to evoke a private home or club-like feel. Service is exactly what you would expect for this luxury hotel with friendly front desk attendants and concierge ready to assist you with your every need. Opt for a room with a view across Madison Park and the Empire State Building.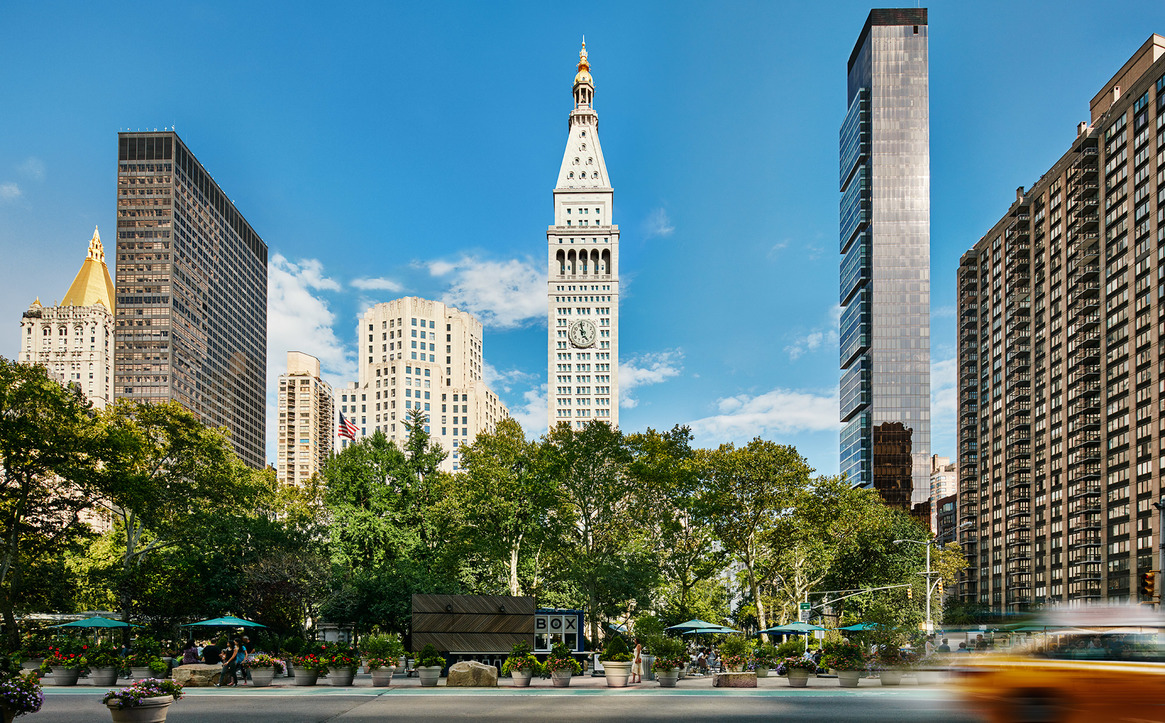 TRIBECA
Best for: WORLD CLASS RESTAURANTS & INDUSTRIAL CHARM
TriBeCa stands for "Triangle Below Canal"; a neighbourhood bordered by SoHo and the Financial District, known for its celebrity residences, multi-million dollar lofts and the annual TriBeCa Film Festival. A Manhattan nightlife hotspot, the scene inside this neighborhood's industrial-era warehouses is not to be missed. Find world class restaurants Bâtard and Tribeca Grill within walking distance of some of the most spectacular waterfront views of the Hudson River that the city has to offer. Finally, be sure to make a post-dinner stop at Brandy Library to choose from "the biggest collection of brown spirits in New York".
WHERE TO STAY
An industrial chic Hotel styled with Marcello Pozzi architecture. Stylish rooms are filled with art, retro lights and Italian tile work in the bathrooms. Head up to the stunning rooftop bar to spot the Chrysler Building, Empire State Building and the Statue of Liberty over cocktails at sunset!
The Greenwich Hotel is Robert de Niro's gem. This Hotel is a true oasis... almost like an elegant guest house with all the amenities and services you would expect from a luxury, 5-star experience. Be sure to spend time at the Shibu Spa and the lantern lit indoor pool. Dine at the hip Locanda Verde restaurant which is a favourite stomping ground for the local A-listers!